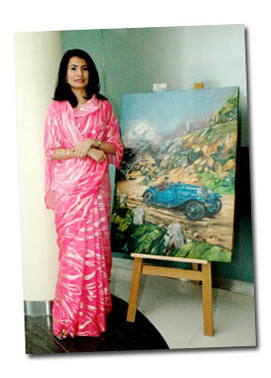 Although the Indian art industry has been on a high for a few years now, churning out new styles, mediums, and subject matters, automotive art in India is yet to get the recognition it enjoys in many parts of the world. However, the last few years have witnessed a growth of interest in the field. Vidita Singh is one of the first artists to pursue automotive art in India.
Born into the royal family of Barwani, Vidita was brought up in a family of automotive enthusiasts. Having been surrounded by some of India's best Vintage and Classic cars during her childhood, it is not surprising that Vidita Singh is now India's leading automotive artist. Like her father H.H. Manvendra Singh of Barwani, a renowned automotive historian |and restorer, Vidita feels a passionate need to preserve India's automotive history and tradition. And, she does this through her canvases.
Her collection of art works include Rolls-Royces, Bentleys, Dusenbergs, Corvettes, and other timeless beauties gracefully framed against a range of backgrounds that go from royal palaces to hills and hunting scenes. The artist says, "I want to portray these marvellous machines as they would have been during their early existence in India". Her paintings have a nostalgic and often royal aura to them. Although most of Vidita's paintings adhere to a realistic style, she likes experimenting with art deco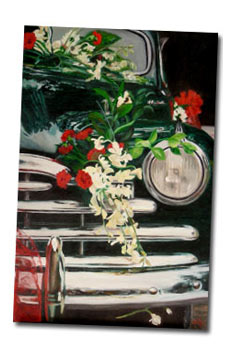 as well.
Vidita works in a range of mediums including oils, charcoals, and watercolours. She believes that these traditional mediums give her art an old world charm, and best facilitate her to express her passion for classic cars on canvas.
The artist has a Masters' degree in the history of art, and has completed a course in art restoration from Florence, Italy. She has been painting seriously only for the last ten years, after she passed out from Mayo College Girls' School. And, she has not looked back since.
Vidita is now an artist with National recognition. She has been featured in TV shows such as BBC's "Wheels", and in magazines like Femina, Top Gear, and Auto Car. With a growing interest in classic & vintage cars in India, Vidita has a positive outlook on the future of automotive art in India.